Home
Up
TED CHRISTOPHER SCORES HIS FIRST NASCAR WEEKLY RACING SERIES NATIONAL CHAMPIONSHIP
AT THOMPSON INTERNATIONAL SPEEDWAY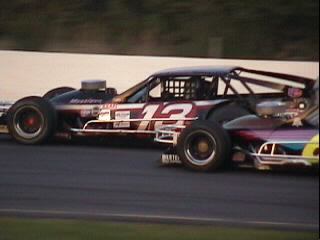 DAYTONA BEACH, Fla. (September 25, 2001) - Ted Christopher of Plainville, Conn., who for nearly two decades has strapped himself into modified stock cars and competed each weekend at speedways throughout New England, raced to 15 victories in 18 starts at Thompson (Conn.) International Speedway to claim the 2001 NASCAR Weekly Racing Series national championship announced today by NASCAR. Christopher will receive more than $160,000 from the $1.7 million NASCAR Weekly Racing Series point fund.

Rob Wilcox, who races in the New England Region of the ShorTrack Division in the NASCAR Weekly Racing Series has been announced as the 2001 national champion.

Both drivers will be honored on stage at the Peabody Hotel and Resort in Orlando, Fla., during the national champion's banquet on Friday, November 16th.



"This is totally incredible," exclaimed Christopher, who last season claimed his first NASCAR Weekly Racing Series regional championship in the New England Region. "You can set your goals in racing, but it's hard to achieve a regional championship, let alone
the NASCAR Weekly Racing Series national championship. All you can do is show up each week and race as hard as you possibly can and hope for the best. I knew we had an opportunity to win the region again, because we had enough victories, but we needed to get
the point lead. It was a real battle. I thought we might have a shot at the national title, but you're never positive. To actually win the nation is hard to comprehend."

Christopher, who raced to the national crown while competing in the SK Modified division at the historic .625-mile Thompson International Speedway, also competes at Stafford Motor Speedway in the New England Region of the NASCAR Weekly Racing Series. He also races regularly in Featherlite Modified Series and Busch North Series, NASCAR Touring competition. Christopher also currently leads the track championship point standings in the SK Modified division at Stafford, which completes its season on Sunday,
September 30. At both Thompson and Stafford features are handicapped with high point drivers always starting toward the back of the field with his average starting position at Thompson being 13th and 16th at Stafford. Christopher's 2001 results at Thompson
eclipsed his 2000 personal best records set at Stafford (Conn.) Motor Speedway by six victories.

"Ted Christopher is an exceptional competitor within the NASCAR Weekly Racing Series," stated Chris Boals, director of NASCAR Touring and the NASCAR Weekly Racing Series. "Ted will be an excellent national champion. He is dedicated to racing and to the NASCAR Weekly Racing Series. His achievements this season have been outstanding and will be recognized for years to come.
Thousands of competitors throughout the nation just like Ted Christopher strive each race weekend to achieve the same honor. All of our regional and national competitors join an esteemed list of select drivers that have become NASCAR Weekly Racing Series regional
and national champions."

Christopher, who operates his own heavy equipment transmission repair company in Connecticut, competes for car owner, Jim Gallante. Gallante and Christopher have teamed together for the much of the past decade.

"Jim has provided our team with everything necessary for our team to perform at a championship level," added Christopher.
"Our relationship has been tremendous over the years. I am just proud to be able to give Jim and this team something back for what he has given us."

Even though Christopher has been declared the 2001 NASCAR Weekly Racing Series national champion he still has several NASCAR sanctioned races to participate in before the championship celebration can begin.

"Racing is my life," offered Christopher. "I do this because I love it, not for any other reason. To win this championship takes dedication from every individual on our team. Everyone involved with our operation deserves a piece of this championship. To me, I
have the fun job. I get into the car and drive it as hard as I can. I love passing cars. I don't look forward to the off-season, but I want to savor this with our team. I'm really looking forward to the banquet and the celebration. We still have some racing to do this season
and maybe even a few more wins left this season, but no matter what, we are going to enjoy this championship."

All NASCAR Weekly Racing Series regional champions will receive $40,900 from participating series sponsors. In addition, those sponsors create the $115,500 that the national champion will receive.

In addition to winning over $160,000 in posted prize money for the national crown, Christopher and his team will also collect $1,000 for a local track award, an NWRS track championship helmet along with a leather NASCAR Weekly Racing Series national
champion's jacket and a champion's diamond ring. Christopher's total winnings for the 2001 season, including local track awards, will be well over $163,000 including his efforts at Stafford Motor Speedway, which is a NASCAR Weekly Racing Series record.

Christopher's crew chief, Craig Ragaglia, will receive $5,000 for the national champions crew chief award from Lincoln Electric and a limited edition Lincoln Welder.

The $1.7 million national and regional championship point fund includes contributions from 23 contingency program sponsors including: Anheuser-Busch, Berryman, CV Products, Champion, Cintas, Craftsman, Clevite, Earl's, Edelbrock, Featherlite, Goodyear,
Holley, Hoosier, JE Pistons, Mechanix Wear, Moroso, Prestone, 76, Gatorade, Lincoln Electric, 3M, True Value, Raybestos, and Featherlite that have joined together to create the largest point fund in NASCAR Weekly Racing Series history.

NASCAR Weekly Racing Series Regional Champions:

Blue Ridge Region:
Phillip Morris of Ruckersville, Va., scored the Blue Ridge Region championship in the NASCAR Weekly Racing Series on the
final night of the season. Morris surpassed Wade Day of Blountville, Tenn., who won the regional crown in 2000, in the track
championship standings at New River Valley Speedway to capture the regional title. Morris' final victory moved him past Mark
Vineyard of Powell, Tenn., who competes at Atomic Motor Speedway in Knoxville, Tenn., and into the regional lead. It is the first
regional title for Morris, who competes in the NWRS Late Model Stock Car division at New River Valley Speedway in Radford, Va.,
where he earned 13 wins and 16 top-five finishes in 19 starts. Morris, who has been a dominant force for many years in NWRS Late
Model Stock Car competition, will take home $41,900 for his regional crown and finished second in the national standings.

Heartland Region:
John O'Neal of Kansas City, Mo., earned the top spot in the Heartland Region of the NASCAR Weekly Racing Series and
recorded his first regional championship. O'Neal, who competes in the Late Model division at I-70 Speedway in Odessa, Mo.,
collected 13 victories this season and was in the hunt for the NASCAR Weekly Racing Series national championship for much of the
season. O'Neal held off Clint Bowyer of Emporia, Kan., who competes at Lakeside Speedway in Kansas City, Kan., for much of the
season and will collect $41,900 for his regional crown. O'Neal finished the season with 17 top-five finishes in 18 starts and third in
the national standings.

Sunbelt Region:
Brandon Bendele of Adkins, Tex., drove to his second Sunbelt Region championship in the NASCAR Weekly Racing Series.
Bendele, who competes in the Late Model Stock Car division at San Antonio (Tex.) Speedway, collected 15 victories and 16 top-five
finishes in 18 starts. Bendele, who scored his first regional crown came in 1999, finished fourth in the nation and will take home over
$42,000 for the title. Bendele held off Jerry Williams of Ravelele, S.C., who competes at Summerville (S.C.) Speedway, for most of
the season to capture the crown.

Midwest Region:
Jeff Aikey of Cedar Rapids, Iowa, scored his first NASCAR Weekly Racing Series championship in the Midwest Region at Farley
(Iowa) Speedway. Aikey, who competes in the NWRS dirt Late Model division at the .500-mile dirt oval this season, has scored nine
victories this season. Aikey finished fifth in the national championship standings. Aikey has been close to capturing a regional title in
the past, but 2001 finally became his year. In addition to his nine victories, Aikey scored 16 top-five finishes in 18 starts. Aikey will
collect $41,900 for his regional championship efforts.

Atlantic Seaboard Region:
Brandon Butler of Richmond, Va., won his way to the top of the standings in the Atlantic Seaboard Region of the NASCAR
Weekly Racing Series in the 2001 season. Butler will collect over $41,900 for winning the regional battle and finishing sixth in the
nation with nine wins and 18 top-five finishes in 19 events. Butler competes in the NWRS Late Model Stock Car division at South
Boston (Va.) Motor Speedway. Butler battled throughout the season with Doug Godsey of Richmond, Va., who races at Southampton
Motor Speedway in Capron, Va., and Dustin Storm of Prince Frederick, Md., who races at Old Dominion Speedway in Manassas,
Va., for the top spot in the Atlantic Seaboard Region. The trio was grouped together and battled for the lead throughout the season
with Butler and Godsey swapping the regional lead on several occasions.

Northeast Region:
Vern Bliss of Arcade, N.Y., will take home the $41,900 for the Northeast Region championship. Bliss, who competes in the
Late Model Pro Stock division at Holland (N.Y.) International Speedway, sprinted to 10 victories this season to earn his second track
championship and his first regional crown. Bliss captured 17 top-five and 19 top-ten finishes on his way to finishing seventh in the
national standings. Bliss will become the first regional champion to represent the high-banked .375-mile Western New York oval. Bliss
led the region for most of the season and fended off the challenges of Keith Hoffman of Whitehall, Pa., who competes at Big Diamond
Raceway in Minersville, Pa., and J.R. Kent of Horseheads, N.Y., who competes at Chemung (N.Y.) Speedrome, to capture the crown.

Pacific Coast Region:
Aaron Days of Turlock, Calif., locked up his first Pacific Coast Region championship in the NASCAR Weekly Racing Series
with a victory in the final week of the season. Days will collect over $42,000 for his efforts between regional and track awards. Days,
who competes in the Sportsman Late Model division at Altamont Raceway Park in Tracy, Calif., has earned nine wins and 15 top-five
finishes this season. Days fended off the challenges of two-time and defending Pacific Coast Region champion, Mark Welch of
Orangevale, Calif., to earn the title. Days finished eighth in the overall national championship standings.

Mid-America Region:
Ricky Bilderback of Rockton, Ill., captured his first-ever Mid-America Region championship in the NASCAR Weekly Racing
Series this season. Bilderback turned in a season long performance that barely out-distanced the defending NASCAR Weekly Racing
Series national champion, Gary Webb of Blue Grass, Iowa, in the closest regional battle of the season. Bilderback, who competes in
the Late Model division at Rockford (Ill.) Speedway, visited victory lane on ten occasions with 15 top-five and 17 top-ten finishes to
earn a Competition Performance Index (CPI) of .7558, while Webb's CPI was .7550. Bilderback will earn over $42,000 for his efforts
and finished ninth in the national standings.

Great West Region:
Tom Moriarity of Monroe, Wash., scored his first Great West Region championship in the NASCAR Weekly Racing Series.
Moriarity, who competes in the Super Stock division at Evergreen Speedway in Monroe, Wash., scored four victories in 20 starts to
move to the top spot in the region during the final weeks of the season. Moriarity had 16 top-five and 18 top-ten finishes this season
and will earn over $42,000 for the regional title. Moriarity fended off the challenges of Lynn Hardy of West Jordan, Utah, who
competes at Rocky Mountain Raceways in Salt Lake City, Utah, and Jerry Robertson of Arvada, Colo., who competes at Colorado
National Speedway in Erie, Colo., and is the defending region champion, to capture the championship. Moriarity finished tenth in the
national standings.

ShorTrack Division of the NASCAR Weekly Racing Series:
Rob Wilcox of Londonberry, N.H., scored the ShorTrack Division of the NASCAR Weekly Racing Series national
championship while competing in the 350 Supermodified division at Star Speedway in Epping, N.H., in the New England Region. For
Wilcox, it is his first regional and national championship and nine other first time regional champions in the ShorTrack Division of the
NASCAR Weekly Racing Series join him.

Wilcox has been in contention to win the national crown for much of the season. When Wilcox crosses the stage at the
national champion's banquet in November, he will collect a record amount reaching over $13,500 in a division that was developed
within the NASCAR Weekly Racing Series just four seasons ago with support from True Value.
"This is an awesome feeling," stated Wilcox. "We've been working hard all year to win the track championship at Star and things just
seemed to fall into place. We came into the season with a goal of winning races and making the car better each week. We didn't really
begin paying attention to the regional standings until about halfway through the season. Just to win the region is a great
accomplishment, but to couple the season that we had with a national championship is just fantastic."

Wilcox, 26, visited victory lane 13 times and he joins Buck Catalano of Ontario, N.Y., Tim Clark of Freedom, Calif., and Mike
Reynolds of Readyville, Tenn., as a national champion in the ShorTrack Division. Wilcox collected 16 top-five finishes in 17 starts at
the .250-mile oval this season.

"Our team is a family run operation," explained Wilcox. "We try to do as much as we can on our own. My mother and father
are tremendous supporters of what we do. The competition in the division is phenomenal. There are so many different guys that we
have to compete against each week. It seems like it gets more difficult each weekend and that just makes this season more incredible."

The ShorTrack Division in the NASCAR Weekly Racing Series was developed in 1998 to provide regional and national
recognition for another NASCAR Weekly Racing Series division.

With the support of True Value this season, those competitors raced for their share of nearly $135,000 in posted local,
regional and national awards. Local track champions will receive $1,000, while regional champions will receive $2,500 with the
national champion to earn another $10,000.

"We are extremely pleased by the development of the ShorTrack Division in the NASCAR Weekly Racing Series," stated Chris
Boals, director of the NASCAR Weekly Racing Series. "The division has been a great addition to the NASCAR Weekly Racing Series
program. Rob Wilcox represents what the ShorTrack Division in the NASCAR Weekly Racing Series is all about. He is a first time
champion as are all of our regional champions in the ShorTrack Division. We are thrilled to have the opportunity to honor all of them
at the national champions banquet in November."

Each of the nearly 100 NASCAR Weekly Racing Series tracks across the country have designated a feature division that
competes for local, regional and national recognition and a $1.7 million point fund. These same tracks have designated another division
to compete in the ShorTrack Division. The ShorTrack Division includes divisions such as Limited Sportsman, Sportsman, Street
Stock, Modified and Truck classes.

ShorTrack Division Regional Champions:

Great West Region:
Shane Brim of Malaga, Wash., has earned his first regional title in the Great West Region of the ShorTrack Division in the
NASCAR Weekly Racing Series. Brim, who competes in the Sportsmen division at Wenatchee (Wash.) Valley's Super Oval, visited
victory lane on ten occasions this season. Brim, who will earn $3,500 for the championship, scored 14 top-five and 15 top-ten finishes
in 16 starts and finished second in the national standings.

Atlantic Seaboard Region:
Jimmy Naylor of Dalzell, S.C., captured the Atlantic Seaboard Region championship in the ShorTrack Division of the
NASCAR Weekly Racing Series. Naylor, who competes in the Late Model division at Florence (S.C.) Motor Speedway, earned 13
victories and 17 top-five finishes in 17 starts this season. Naylor will take home $3,500 from True Value for his efforts. Naylor
finished third in the national championship standings.

Pacific Coast Region:
Mark Schackleford of Riverside, Calif., scored the Pacific Coast Region in the ShorTrack Division of the NASCAR Weekly Racing
Series and the $3,500 in the posted awards that goes with the title. Schackleford, who competes in the Stock Pony division at Orange
Show Speedway in San Bernardino, Calif., visited victory lane on ten occasions with 14 top-five and 16 top-ten finishes in 16 starts.
Schackleford finished fourth in the ShorTrack Division national standings.

Blue Ridge Region:
David Miley of Knoxville, Tenn., who competes in the Modified Street division at Atomic Motor Speedway in Knoxville,
Tenn., claimed the Blue Ridge Region title in the ShorTrack Division of the NASCAR Weekly Racing Series. Miley earned eight
victories and 15 top-five finishes in 16 starts this season and finished fifth in the nation. Miley will pocket $3,500 for his regional
crown.

Mid-America Region:
Kevin Propst of Holts Summit, Mo., took home the regional championship in the ShorTrack Division of the NASCAR Weekly
Racing Series in the Mid-America Region. Propst, who competes in the Modified division at Capital Speedway in Holts Summit, Mo.,
scored 14 wins, 22 top-five and 23 top-ten finishes in 24 starts on his way to earning $3,500 for the regional crown. Propst finished
sixth in the ShorTrack Division national standings.


Sunbelt Region:
Donald Clark of Cottageville, S.C., held the lead in the Sunbelt Region in the ShorTrack Division of the NASCAR Weekly
Racing Series and went on to capture the regional title. Clark, who competes in the Late Model division at Summerville (S.C.)
Speedway, will earn $3,500 for his championship. Clark collected 15 wins and 20 top-five finishes in 20 starts and went on to finish
seventh in the national standings.

Heartland Region:
Tandy Marlin of Franklin, Tenn., who is the cousin of NASCAR Winston Cup Series driver, Sterling Marlin, captured the
Supertruck division championship at Nashville (Tenn.) Speedway USA, and earned the Heartland Region championship in the
ShorTrack Division of the NASCAR Weekly Racing Series and the $3,500 that goes with the title. Marlin earned eight victories, 14
top-five and 17 top-ten finishes in 19 starts on his way to finishing eighth in the national standings.

Northeast Region:
Edward Brehio of Baldwinville, Mass., has scored the Northeast Region championship in the ShorTrack Division of the
NASCAR Weekly Racing Series. Brehio, who competes in the Late Model division at Monadnock Speedway in Winchester, N.H., has
collected five wins, 17 top-five and 18 top-ten finishes in 18 starts. Brehio collected $3,500 for the regional championship and finished
ninth in the national championship standings.

Midwest Region:
Randy Kutzke of Topeka, Kan., moved into the top spot in the Midwest Region of the ShorTrack Division of the NASCAR
Weekly Racing Series in the final week of the season and claimed the regional title. Kutzke, who competes in the Grand National
division at O'Reilly Auto Parts Motor Speedway at Heartland Park in Topeka, Kan., will take home $3,500 in posted awards. Kutzke
earned eight victories, 16 top-five and 17 top-ten finishes in 17 starts and finished tenth in the national standings.

The NASCAR Weekly Racing Series is contested every season on both dirt and asphalt tracks, nationwide. Weekly short track
racers have the opportunity to compete for regional and national recognition, as well as over $1.7 million in posted awards, the highest
posted awards for any short track racing series. National and regional champions will be honored at the champions banquet on Friday,
November 16, at the Peabody Hotel and Resort in Orlando, Florida.

Simply put, the NASCAR Weekly Racing Series Competition Performance Index (CPI) rewards excellence in competition at a
drivers home track, while also comparing a drivers performance against other drivers competing throughout the region and, ultimately,
throughout the United States. Between January 1 and September 16, 2001, drivers earned and accumulated points at their home track
based on how they finished each race. Each week, using the CPI formula, the performance of the driver with the greatest number of
points given at a race track (that track's points leader) is compared against the performance of the points leaders from the other tracks
in his or her region. This creates a top-10 ranking of drivers for that region. Every week, the CPI is updated with the rankings
constantly changing throughout the season. When the season concludes, whoever is atop the regional top-10 ranking is crowned the
NASCAR Weekly Racing Series regional champion.

To be eligible to win the NASCAR Weekly Racing Series national championship, a competitor must participate in a minimum
of 18 events (16 events in the ShorTrack Division in the NASCAR Weekly Racing Series).

Attached is a list of the top ten NASCAR Weekly Racing Series and ShorTrack Division by NASCAR competitors in the
nation as rated by the CPI.
-30-

For More Information Contact:
Joe Skotnicki, NASCAR, 904/947-6843 or jskotnicki@nascar.com



2001 NASCAR WEEKLY RACING SERIES NATIONAL STANDINGS
FEATURE DIVISION

Pos Driver Name Region Home Track (State) Starts Wins Top-5 Top-10 CPI
1 Ted Christopher New England Thompson (Conn.) International Speedway 18 15 16 16 .9083333
2 Phillip Morris Blue Ridge New River Valley (Va.) Speedway 19 13 16 16 .8649676
3 John O'Neal Heartland I-70 (Mo.) Speedway 18 13 17 17 .8475316
4 Brandon Bendele Sunbelt San Antonio (Tex.) Speedway 18 15 16 16 .8411366
5 Jeff Aikey Midwest Farley (Iowa) Speedway 18 9 16 16 .8378125
6 Brandon Butler Atlantic Seaboard South Boston (Va.) Speedway 19 9 18 18 .8150419
7 Vern Bliss Northeast Holland (N.Y.) International Speedway 19 10 17 19 .7936902
8 Aaron Days Pacific Coast Altamont (Calif.) Raceway Park 18 9 15 16 .7666677
9 Ricky Bilderback Mid-America Rockford (Ill.) Speedway 19 10 15 17 .7583004
10 Tom Moriarity Great West Evergreen (Wash.) Speedway 20 4 16 18 .7038540

2001 SHORTACK DIVISION IN THE NASCAR WEEKLY RACING SERIES NATIONAL STANDINGS
SHORTRACK DIVISION

Pos Driver Name Region Home Track (State) Starts Wins Top-5 Top-10 CPI
1 Rob Wilcox New England Star (N.H.) Speedway 17 13 16 16 .9009050
2 Shane Brim Great West Wenatchee (Wash.) Valley's Super Oval 16 10 14 15 .8750000
3 Jimmy Naylor Atlantic Seaboard Florence (S.C.) Motor Speedway 17 13 17 17 .8736196
4 Mark Schackleford Pacific Coast Orange Show (Calif.) Speedway 16 10 14 16 .8580769
5 David Miley Blue Ridge Atomic (Tenn.) Motor Speedway 16 8 15 15 .8424519
6 Kevin Propst Mid-America Capital (Mo.) Speedway 24 14 22 23 .8111538
7 Donald Clark Sunbelt Summerville (S.C.) Speedway 20 15 20 20 .7995000
8 Tandy Marlin Heartland Nashville (Tenn.) Speedway USA 19 8 14 17 .7836842
9 Edward Brehio Northeast Monadnock (N.H.) Speedway 18 5 17 18 .7832478
10 Randy Kutzke Midwest O'Reilly Auto Parts Motor Speedway (Kan.) at Heartland Park 17 8 16 17 .7325336