Stafford Speedway Photos by Cliff Moon
Carl "Bugsy" Stevens was on hand as Ted Christopher broke his all time win record of 72 events at Stafford Motor Speedway. Bugs also was promoting his new Biography "BUGSY". (complete photo descriptions at the bottom of this page)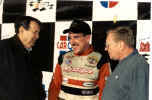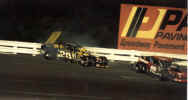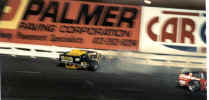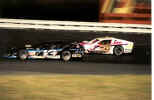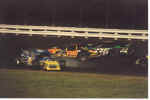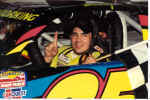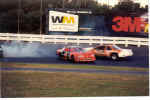 Stafford Speedway
Stafford Springs, CT

8-23-02

Photos by Cliff Moon

sscm01 - Featherlite Modified winner Ted Christopher and his nephew Mikey in victory lane.

sscm02 - Ted Christopher (center) is congratulated by modified racing legend Bugsy Stevens (right) and Jack Arute Sr (left) after surpassing Bugsy's 72 win record becoming the ALL-TIME WINNINGEST DRIVER IN Stafford Speedway HISTORY.

sscm03 - Featherlite modified action

sscm04 - same

sscm05 - Ted Cristopher (13) passes Eddie Flemke Jr. (79) on his way to victor Friday Night in the FMS event.

sscm06 - SK Modified featur winner BRAD HIETALA

sscm 07 - same as sscm06

sscm08 - SK modified action

sscm09 - Late Model featur wiiner Woody Pitkat

sscm10 = Late model action

sscm11 - Modifed standout Carl 'Bugsy' Stevens was on hand to autograph his new Biography "BUGSY"