Stafford Speedway
Spring Sizzler 2002

Saturday - April 27th (Sunday was a rainout)

Photos by Cliff Moon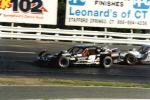 First time sk modified feature winner Doug Colby (2) gets by leader Chuck Docherty (78 - right) in the SK modified feature's final lap - final turn to earn the win.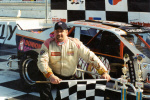 21 means 21 feature winner Jimmy Williams (00) in victory lane.

Bo Gunning (17), Brad Hietala (9) in sk modified Feature # 1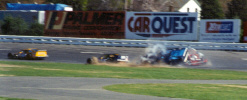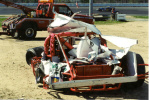 Gerry Savage's (88) sk modified after a crash on the backstretch. He was uninjured - all the safety equipment worked.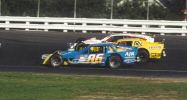 3 wide sk modified racing action (Bob Georgiades (86))